Fun Family Activities to Do in Your New Orlando Home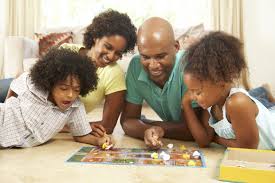 Moving into your new home can be exciting especially if you happen to move to an interesting town like Orlando. Although you may not be in favor to consider indoor activities with a bunch of rascals that may end up ruining a few things of the new house, you may consider some activities that still all can be fun and joyful and safe. In this post, we will be highlighting some indoor activities that you and your family can enjoy in your new home!

Cook Together!
Nothing is more inviting then bringing everyone together to help out with dinner preparations. Whether it is taking items out of the fridge, to helping mom with the dishes, or asking dad to help you open an incredible hard to open jar. Whatever it may be, cooking together as a family is indeed a unique and interesting indoor activity that you ought to try in your new home in Orlando!
Decorate
Usually when people move into there new homes, a few unpacked boxes may still be scattered around the house. Nevertheless, it's a perfect time to gather up the family to help unpack and decorate the home. From setting up lamps, to aligning up the curtains, to setting up unique figurines and family pictures.

New Hobbies
If your new Orlando home has a considerable size back yard, you could ingulf yourself in family activities such as mini-sports ideal for the backyard with your family. Not only that, a family pool is also ideal in Orlando, since the climate in Orlando is typically warm and soothing with temperatures reaching 80-90 degrees.
Movie Nights
This is probably one of the most interesting activities of them all. Settling down with your family to watch a movie can be epic. Consider a movie night for the entire family, this not only saves you money from spending at the movie theaters, but it also saves time and helps to builds up a stronger relationship with every family member.

Play Games Together
Whether your family is a enthusiast for boardgames or video games, playing games is an exceptional activity that tends to strike up competition between all family members, including mom and dad! Fun board games like Sequence, Catan, Monopoly, Pandemic, Trouble, Blokus, Operation and Trivial Pursuit are all fun and engaging games perfect for the entire family! Challenge your kids and partner to a game of intellect, creativity, and ideology.
Show Off Your New Home
Most people that shift to a new home, usually associate some sort of a gathering. Such gathering is intended for the moment of celebration and establishments. Consider inviting all your family members to the location of your new home, including your new neighbors. Get the family to help out with the decoration and food preparations prior to your guest arriving and create an inviting and warm greeting invitation celebration of your newly established home in Orlando!
Orlando alone is packed with many fun activities to do, but the most special ones are the ones that are held at your new home. Family gatherings are sensational and unique and helps to build up stronger relationships between each family member. If you are planning to shift to Orlando soon, consider these activities into your family's "get-together-activities" this time around!